PrintableCal includes over 90 free calendar templates which can automatically populate with holidays, events, and tasks from Outlook, Google Calendar, iCloud, Yahoo! Calendar, Exchange Server, Todoist, iCalendar files, CSV files, and more.
Version 2020.07 – February 26, 2020 – What's New
Requires Microsoft Office 365 / 2007 or later for Windows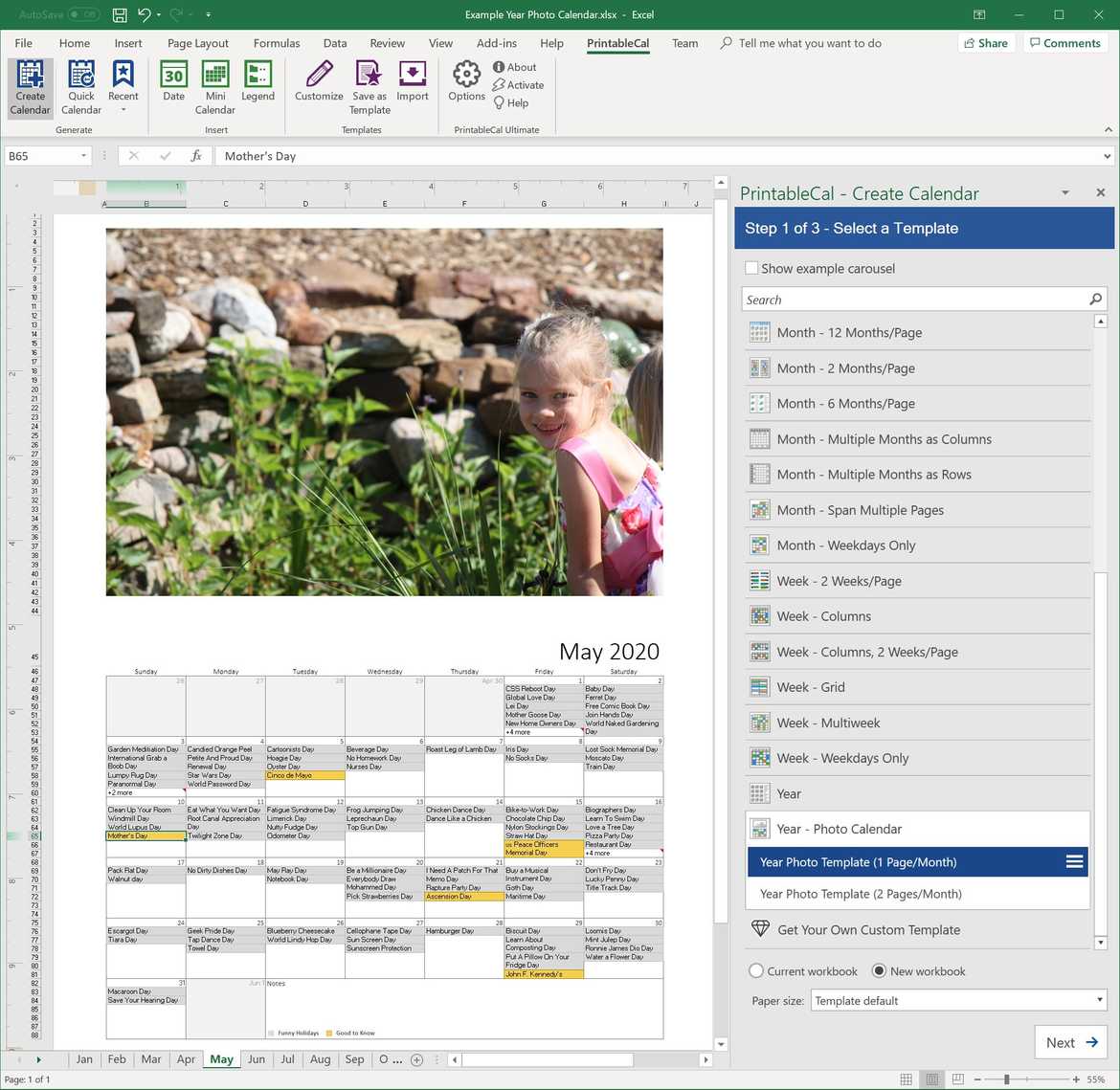 FEATURES
What can PrintableCal do for me?

Automatically import holidays and schedules into calendar templates
PrintableCal can create calendars containing holidays and data from Google Calendar, Microsoft Outlook and Exchange Server, Yahoo! Calendar, VueMinder, iCalendar (ics) files or URLs, and more.Learn how to include holidays and events in a printable calendar

Choose from over 90 different calendar templates
PrintableCal provides a wide variety of calendar template layouts, including yearly, monthly, weekly, daily, and many others. Select a template and see holidays and calendar data automatically appear.See the available calendar templates

Create calendars in Excel, Word, and PowerPoint
PrintableCal is an add-in for creating calendars in Microsoft Excel, Word, and PowerPoint on Windows. Instead of spending hours manually creating a calendar, do it in seconds with PrintableCal.Learn how to get started with PrintableCal

Create calendars for printing, sharing, and collaborating
The calendars created by PrintableCal are suitable for printing or sharing. Printing is not the focus of most other calendar programs, so that feature doesn't get the love it deserves. PrintableCal fills this gap.Learn how to create printable calendars
Configure and customize the calendar templates
Each calendar template contains a variety of easily configurable settings – things like date ranges, word-wrapping, time formats, etc. The calendar templates can also be customized with logos, contact info, different colors, fonts, and much more.Learn how to customize calendar templates

Get technical support directly from the developer
PrintableCal support is provided directly by the team that developed the software. Any questions will be answered by someone that is familiar with every line of code that went into PrintableCal, and is passionate about making sure PrintableCal meets your needs.Ask a question
PRICING
PrintableCal is a free calendar maker with advanced paid features.